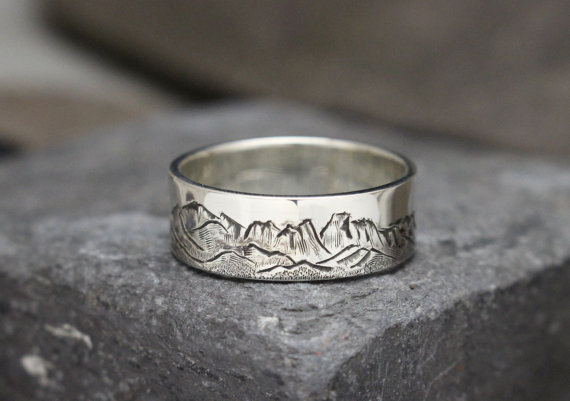 Hand-Engraved Custom Mountain Range Jewelry
Our custom mountain range jewelry and our engraved wedding band sets are some of our most popular designs. We can take any mountain range or view that has significance to you and turn it into a beautiful piece of jewelry. Did you get engaged on top of Camel's Hump? You can have your wedding bands engraved with the mountain range. Did you grow up gazing out your window at the Adirondacks? You can have a necklace made in sterling or gold to keep the mountains close to your heart wherever you travel. Is someone you love moving away? You can have the mountains that define your landscape engraved on a ring or necklace for them. You can even give your father cufflinks to commemorate that time your family hiked Pike's Peak together.
We can engrave any landscape that is important to you. Whether it's a geographically accurate representation, or a compilation of multiple locations, we can engrave it . We can also set stones to represent natural elements like the moon, sun, or stars.
Our mountain range wedding bands are the ideal combination of a classic aesthetic with a modern and personal touch. Our engraved necklaces and cufflinks make significant and thoughtful wedding party gifts. Wedding bands are a truly symbolic piece of jewelry; we would love to help you make yours even more meaningful.